If you are thinking of having a vacation n Slovenia and still hesitate whether to take your pooch or not – don't! Slovenians love dogs, it's a paradise for a pets. Dogs accompany their owners everywhere: for a walk, meeting with friends in a cafe or go shopping. You can't go to grocery stores with dogs, but there's a waiting area with water bowls at the entrance. There are special parks for walking dogs in the city, and there are special garbage cans for pet waste on the streets.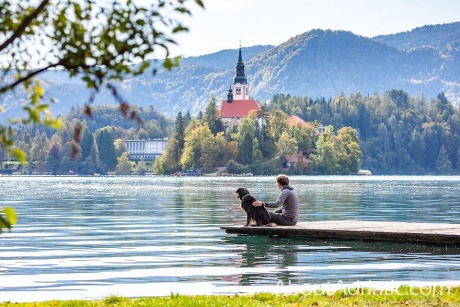 Transportation of Dogs to Slovenia
If you want to come to Slovenia with a dog or cat, the rules vary depending on whether you live in the European Union or in other countries. Depending on the country you live in, the issue is dealt with in different ways - depending on how high the risk of rabies is in a particular country. In either case, your pet will need:
1.Pet passport: The pet must have an EU pet passport and the passport must be issued by a licensed veterinarian.
2.Rabies vaccination: All pets older than 3 months must have been vaccinated against rabies which is certified by a veterinarian in the pet passport.
3 Microchip: The pet must have a microchip which is implanted on the same day or before the first rabies vaccination has taken place

Here you can see more details.

Slovenia is a beautiful country with lakes, forests, water falls, seaside and many other touristic attractions. The most convenient way to see all them is to travel by car, especially if you have a dog with you.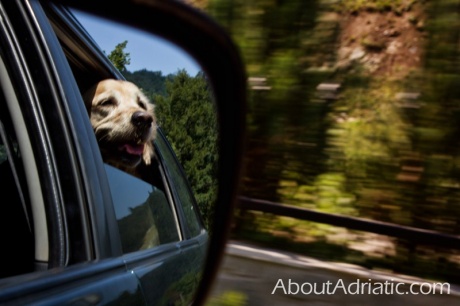 Travel by Car in Slovenia Safely
If you have chosen to travel to Slovenia by car, take care in advance of safety measures to keep your dog and other passengers safe and uninjured. The main part of car accidents happens on the road if the driver is distracted by pets, roaming inside the car unrestrained. This way your pet's life is endangered: in case of car accident he may fly into a windshield, and also to hurt other passengers, including kids, on the way.

Follow the next safety rules and equip your car with one or several safety accessories:
- A restrained travel crate. You can put it on the front or rear seat, or to put in the luggage compartment
- Seat car booster, absorbing the force during car accident
- Special dog crash tested harness keeps your dog from flying into the windshield during abrupt braking. You must necessarily secure the dog with safety belts and restraints.
- Better put your dog on the rear seat. On the front seat a human airbag may crash the dog. If your dog is the only passenger on the front seat, deactivate the airbag.
- Dog car barrier is the solution for SUVs and minivans to prevent your dog from crashing into the windshield.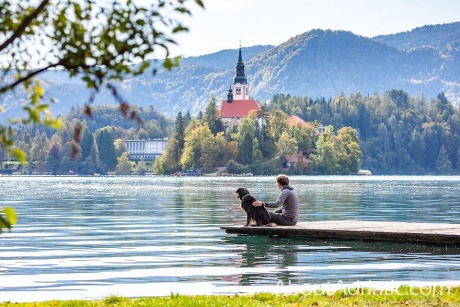 Where to Stay with your Dog in Slovenia
There are plenty of pet-friendly places in Slovenia where you can stay with your dog. Ljubljana is even on 10th place, with just over half of all hotels allowing dogs. Anyway, check all the details with the hotel before arrival. Some hotels charge additionally or have restrictions on dogs' size.
Where to Eat with a Dog in Slovenia
In Slovenia there are restrictions regarding access with a pup to any café or restaurant. Of course there are some where you are not allowed inside with a dog, but you can always find a place on an open terrace.

Hov-Hov is first bakery for dogs. And it's opened in Slovenia: in Ljubljana and Maribor. They produce tasty eco-friendly cookies for dogs. Don't miss a chance to buy some presents for your pooch on the way.
https://www.youtube.com/watch?time_continue=17&v=1QOTVFlDwFw&feature=emb_logo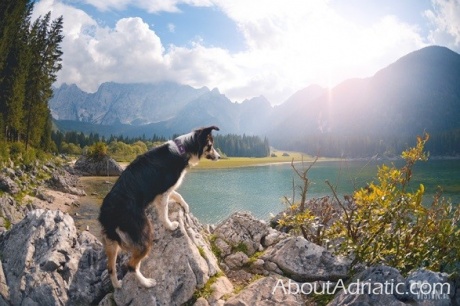 What Places in Slovenia you can visit with a Dog
• Dog-Friendly Parks
If you're visiting the Slovenian capital of Ljubljana, you may consider two dog parks in the city centre: Železna cesta, part of the North Park and at Pesarska cesta in Štepanjsko naselje. Dogs are allowed to walk here off-leash.
• Lake Bled
Bled is one of the most popular places to visit in Slovenia, with its lake and a castle on the cliffs above it. There is a 6km picturesque footpath around the lake. This way takes about 2 hour of a slow walk with stops for sightseeing. You can also make a boat trip. Dogs are allowed free of charge.
• Waterfalls
Slovenia has many mountains and waterfalls. There is Savica Waterfall not far from Lake Bled, Dogs on a leash are allowed for free.
• Pet-Friendly Beaches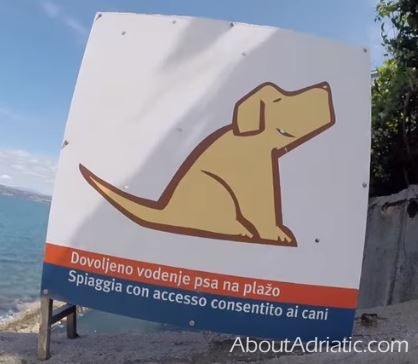 So far there is one beach where pets are allowed officially. This is in Izola - Pasja plaza. It is free, with fresh water for drinking and washing your dog after sea bathing.